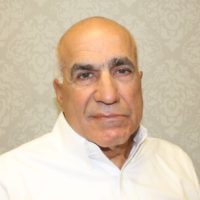 Ben Scaturro Sr.
Commercial Project Estimator
(973) 279-3200 ext. 16
Ben Scaturro is one of the founders of Alpine Painting & Sandblasting Contractors. Originally, Ben and his brother Steve, saw painting as more of a way to help pay for their college tuition, but as their business developed, the beautiful story of Alpine Painting & Sandblasting Contractors began. Ben has played a very important part in the development of the company. In fact, when they expanded their company to a 5-man crew, Ben's main role became running the crew and managing any equipment. Ever since the two brothers started the company in 1975, both have also educated themselves even more about the painting industry by joining the PDCA and the SSPC. Ultimately, Ben would become President of the company, while working side by side with Steve as Alpine's Vice President. Throughout the years, Ben was able to help Alpine win several awards like the ABC National Safety Excellence in Construction Award in 2013, the ABC 2012 Platinum Safety & Training Award, and the PDCA-PIPP National Winner for Industrial Project for 2012. Eventually, Ben would have his three sons, Sam, Dave, and Ben Jr. work in the field as apprentices to become key players in helping Alpine become one of the best painting contractors in the tri-state area. Today, Ben is one of our Commercial estimators and has plenty of experience from his various types of projects. We are fortunate to have his wisdom and guidance. Ben Scaturro inspires us all here at Alpine Painting & Sandblasting Contractors.